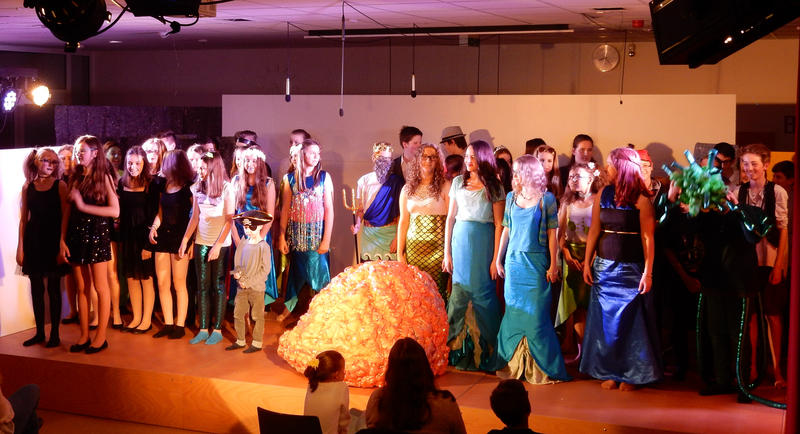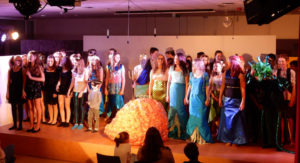 Remembering how much fun we had when we did our first musical, STARGAZER, last year, about 50 students from 2A, 2B, 3A and 3B and our English teacher Molly decided to have some more of it. We formed the DRAMA AND DANCE COMPANY. Based on a short play by Klara Lechner (3A) this year's musical, BLUB! grew and grew and grew on paper into something that turned out to be almost impossible to perform on stage as it is set under and above the sea. It is a story about the power of friendship. (→ Fotogalerie)
The Seawitch curses the Queen of the benevolent merfolk, shrinks her and encases her in a shell. Evil merpeople make life hard for the Seaking and his family and curse and disfigure Ariella, the Seaking's youngest daughter, and sink pirate ships for fun. Pirate gangs fight each other fiercely on the decks of their ships for a treasure that belongs to the Seaking and are finally drowned by the evil merfolk. Lonely Ariella finds Shadow, one of the pirates, drowned on the bottom of the sea and changes him into a merboy by magic. They make friends, and together with Ariella's sisters they defeat the evil sea creatures, bring back the treasure and lift the spell that has kept the Seaqueen inside the shell.
In the face of many obstacles to overcome all members of the DDC teamed up and rehearsed hard. We loved meeting in the evenings (we were allowed to stay out till 9pm!), practised our English without really noticing it and developed our social skills. We learned a lot about what people who co-operate can achieve. Somehow everything worked in the end so that we were able to give three performances in April. It was an experience we will certainly remember for a Long time.